White Chocolate, Lemon Meringue, Popping Candy and Cinnamon Biscuit Crunch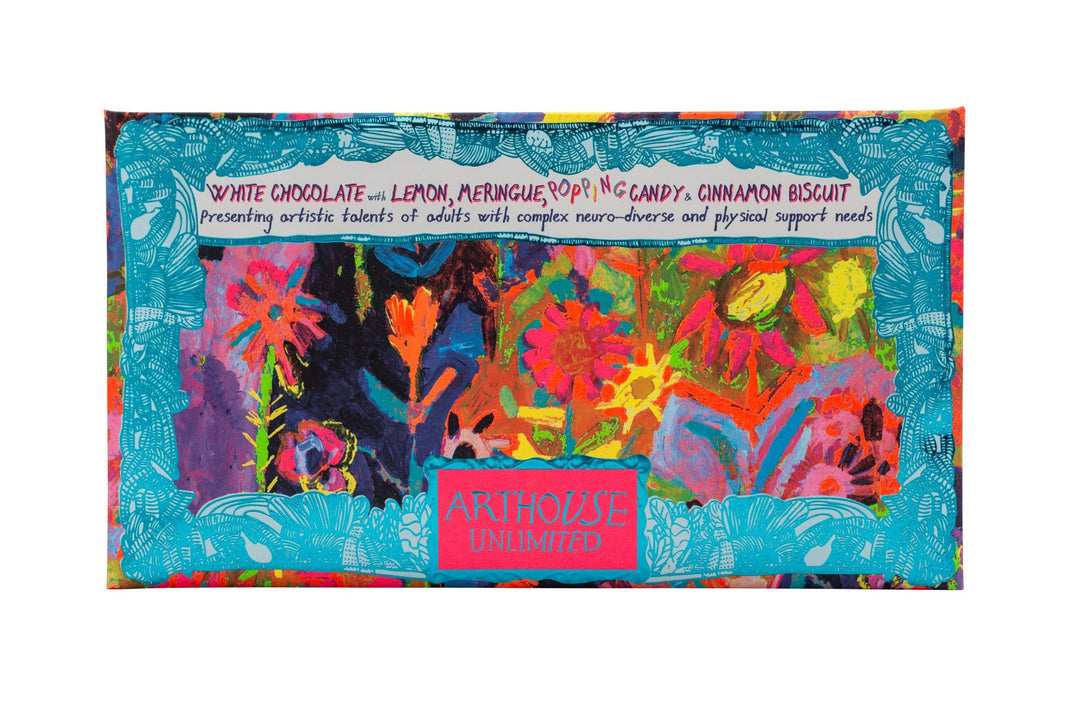 White Chocolate, Lemon Meringue, Popping Candy and Cinnamon Biscuit Crunch
A creamy white chocolate bar with crunchy meringue & warm cinnamon biscuit, followed by a tang of lemon & finished with a burst of popping candy joy!  This bar features artist original artwork presented in a dazzling turquoise frame. An ideal gift for chocoholics, art lovers & good-cause supporters everywhere!
The chocolate is made with ethically sourced, sustainable cocoa and is part of the Cacao-Trace sourcing programme. This programme builds upon the farmers' local knowledge and expertise and empowers them to be more productive and sustainable. By helping farmers increase the value of their cocoa, quality chocolate will be enjoyed for generations to come.

ARTHOUSE Unlimited is a charity that represents a collective of artists living with complex neuro-diverse and physical support needs. The artists work alongside instructors to create artworks which are developed into designer products for sale. All artwork derives from the skills each artist brings to the enterprise and every contribution holds real value.
As they grow they hope to offer more opportunities to people in other towns across the UK. 100% of sales revenue sustains the charity, enabling it to grow and evolve
In stock, ready to ship

Inventory on the way